Below are the Summer programs that will be offered at IMDC this year for all age groups! Be sure to scroll all the way to the bottom for more information on how to register with our new online system! If you have any questions regarding which program would be best for your dancer specifically, please email inmotiondance@aol.com before registering for Summer programs!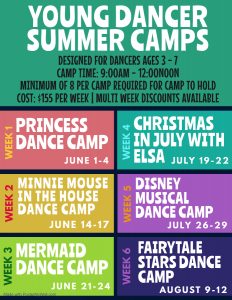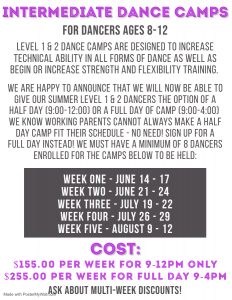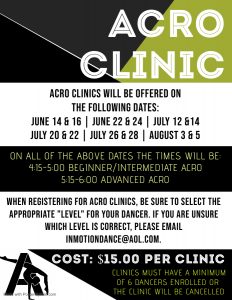 HOW TO REGISTER
CURRENT DANCERS:
IN YOUR IMDC APP CHOOSE THE FOLLOWING STEPS
-> FIND CLASSES
-> ADD A FILTER
-> SESSION (CHOOSE SUMMER 2021)
-> CHOOSE ANY & ALL SUMMER CLASSES YOU WISH TO REGISTER FOR!
-> FEES WILL BE POSTED TO YOUR PORTAL UPON REGISTRATION.
NEW DANCERS:
CLICK THE LINK BELOW TO TAKE YOU TO OUR
ONLINE REGISTRATION FORM. AFTER FILLING OUT FAMILY & DANCER INFORMATION, SELECT ENROLL IN CLASSES AT THE BOTTOM OF THE SCREEN. FILTER CLASSES TO SHOW SUMMER 2021 AND ENROLL IN ANY CLASS YOU WOULD LIKE!
DON'T DELAY! CLASSES WITH LOW ENROLLMENT WILL BE CANCELLED. BE SURE TO SIGN UP FOR THE CLASS(ES) THAT YOUR DANCER WISHES TO TAKE EARLY!
FOR MULTI-CLASS & MULTI-CAMP DISCOUNT INFORMATION, OR IF YOU NEED HELP WITH REGISTRATION, EMAIL US AT INMOTIONDANCE@AOL.COM OR
CALL 336-659-0060.