SUMMER 2022 REGISTRATION IS OPEN!
Dance with us this summer! IMDC has something to offer for dancers of all ages! If you have any questions regarding which program would be best for your dancer specifically, please email inmotiondance@aol.com before registering for Summer programs!
HOW TO REGISTER
If you have a dancer currently enrolled at IMDC, simply login to your parent portal and enroll your dancer in the summer camp(s) or classes of your choice! If you are new to IMDC, you can register for summer programs by visiting our website and registering as a new dancer!
Link to parent portal for current members: https://app.jackrabbitclass.com/jr3.0/ParentPortal/Login?orgID=539268
Link to IMDC registration form for new members: https://app.jackrabbitclass.com/regv2.asp?id=539268
DEPOSIT INFORMATION
A 50% summer deposit will be due within 7-10 days of registration. Your deposit is refundable until May 15. After that date, deposits are only transferrable, not refundable. This ensures that each camp is sufficiently staffed. The remainder of your summer fees will be due by the first day of your dancer's camp or class!
CAMP POLICIES 
Dancers must be fully potty-trained to attend summer dance camps. We do have staff able to assist with potty breaks but do require dancers to be fully potty-trained. On the Wednesday prior to each week of Young & Intermediate Camps, parents will receive a "welcome letter" explaining the layout of the camp their dancer will attend as well as the required camp attire & snack information. Please read this information carefully & if you have additional questions, we will be happy to help!
You will receive an email confirmation within 2 business days of registration confirming that your deposit is posted to your parent portal.
CAMPS AND CLASSES FILL QUICKLY! REGISTER EARLY!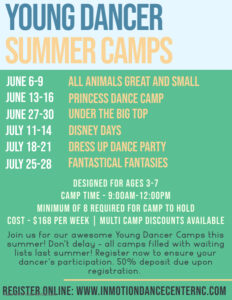 YOUNG DANCER CAMPS – AGES 3-7
These awesome camps will include theme based music, craft, activities & of course DANCING! These popular dance camps filled with waiting lists last year, so don't delay!
Camp time – 9:00AM-12:00PM
Minimum of 8 required for camp to hold
Cost – $168 per week | multi-camp discounts available
CAMP OPTIONS
JUNE 6-9: All Animals Great and Small
JUNE 13-16: Princess Dance Camp
JUNE 27-30: Under The Big Top
JULY 11-14: JULY 25-28 Disney Days
JULY 18-21: Dress Up Dance Party
JULY 25-28: Fantastical Fantasies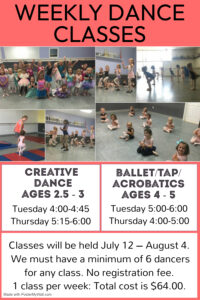 WEEKLY DANCE CLASSES – 4 week session
Weekly Dance Classes are a great way for children to either continue their dance training into the summer or to begin classes with us for the first time, which they would hopefully want to continue into the fall 2022-23 session! This 4 week session will be held
July 12-August 4. Minimum of 6 required
for the class to be held
Cost – $64 for the full 4 week session
CLASS OPTIONS
Creative Dance (ages 2.5-3):
Tuesdays 4:00-4:45pm
Thursdays 5:15-6:00pm
Ballet/Tap/Acrobatics (ages 4-5):
Tuesdays 5:00-5:00pm
Thursdays 4:00-5:00pm
INTERMEDIATE "BROADWAY BOUND" DANCE CAMP – ages 8-12
Each week of Broadway Bound Dance Camp will focus on two different Broadway shows. Dancers will learn choreography from the show while studying the show's history, music and costumes. This is the perfect way for dancers ages 8-12 to study a variety of styles of dance while working on their dance technique and performance skills.
Camp time – 9:00am – 12:00noon
Minimum of 8 required for camp to be held.
Cost – $168 per week | multi-camp discounts available
CAMP OPTIONS
JUNE 27-30
JULY 11-14
JULY 18-21
JULY 25-28
ACRO CLINICS – ages 4 & up
IMDC is lucky to have TWO Acrobatics Arts certified instructors. Their certifications range from Preschool age to Module 1 which makes IMDC the perfect place to either begin your child's potential interest in acrobatics or to further their existing skills! During the summer, we offer two "levels" of training to ensure your child is appropriately challenged: Beginner/Intermediate or Intermediate/Advanced. If you are unsure which level is correct for your child, please email inmotiondance@aol.com prior to registering and we will guide you to the correct class time!
Minimum of 6 required for camp to be held.
Cost – $15 per class
ACRO CLINIC OPTIONS
JULY 11 & 13
JULY 18 & 20
JULY 25 & 27
AUGUST 1 & 3
AUGUST 15 & 17
AUGUST 22 & 24
On all of the above dates, times will be:
4:15-5:00 Beginner/Intermediate Acro
5:15-6:00 Intermediate/Advanced Acro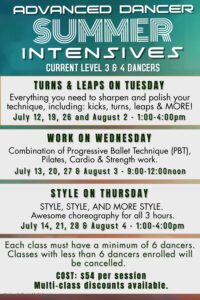 ADVANCED DANCER SUMMER INTENSIVES – Level 3 & 4 Dancers
For current dancers, especially Level 3 & 4 IMDC dancers, continuing your dance training into the summer keeps your skills sharp and promotes growth in your craft! If your child is new to dance but is 13 years or older, we would love to have them join us for these FUN yet appropriately challenging classes! If you have questions about if these classes are appropriate for your dancer, email inmotiondance@aol.com. Here's what we offer:
Turns & Leaps on Tuesday: Everything you need to sharpen and polish your technique, including: kicks, turns, leaps & MORE!
Work on Wednesday: Combination of Progressive Ballet Technique (PBT), Pilates, Cardio & Strength work.
Style on Thursday: STYLE, STYLE, AND MORE STYLE. Awesome choreography for all 3 hours.
Cost – $54.00 per 3 hour session. Minimum of 6 dancers required for the class to be offered.
CLASS OPTIONS
TURNS & LEAPS ON TUESDAY:
July 12, 19, 26 and August 2 – 1:00-4:00pm
WORK ON WEDNESDAY:
July 13, 20, 27 & August 3 – 9:00-12:00noon
STYLE ON THURSDAY:
July 14, 21, 28 & August 4 – 1:00-4:00pm