Faculty & Staff
MICHELLE NICHOLSON / PRINCIPAL TEACHER and ARTISTIC DIRECTOR
Michelle Jaynes Nicholson attended North Carolina School of the Arts along with Point Park School of Dance in Pittsburgh. She performed in several companies in Pennsylvania, North Carolina, Georgia, and Florida. Among them are American Dance Ensemble, Ballet Petrov, Wake Forest University Dance Company, and Ruth Mitchell Ballet. Michelle owned and operated a successful studio in Miami, as well as directed the Sunsationals, a Pre-Professional dance company also located in Miami. She has also served as a national judge on a major dance competition circuit.
2017-2018 DANCE FACULTY
Michelle Nicholson – Principal Teacher / Director
Chloe Beatty

Monet Beatty

Kimberly Benfield

Payton Calvert

Devinne Cook

Alejandra Dore

Christina Foster

Rita Hall

Katy Kneisel

Jordan Medley

Anna Murnane

Nina Price

Cindy Resendes

Elizabeth Rose

Courtney Stewart

Sydney Stone

Erika Thompson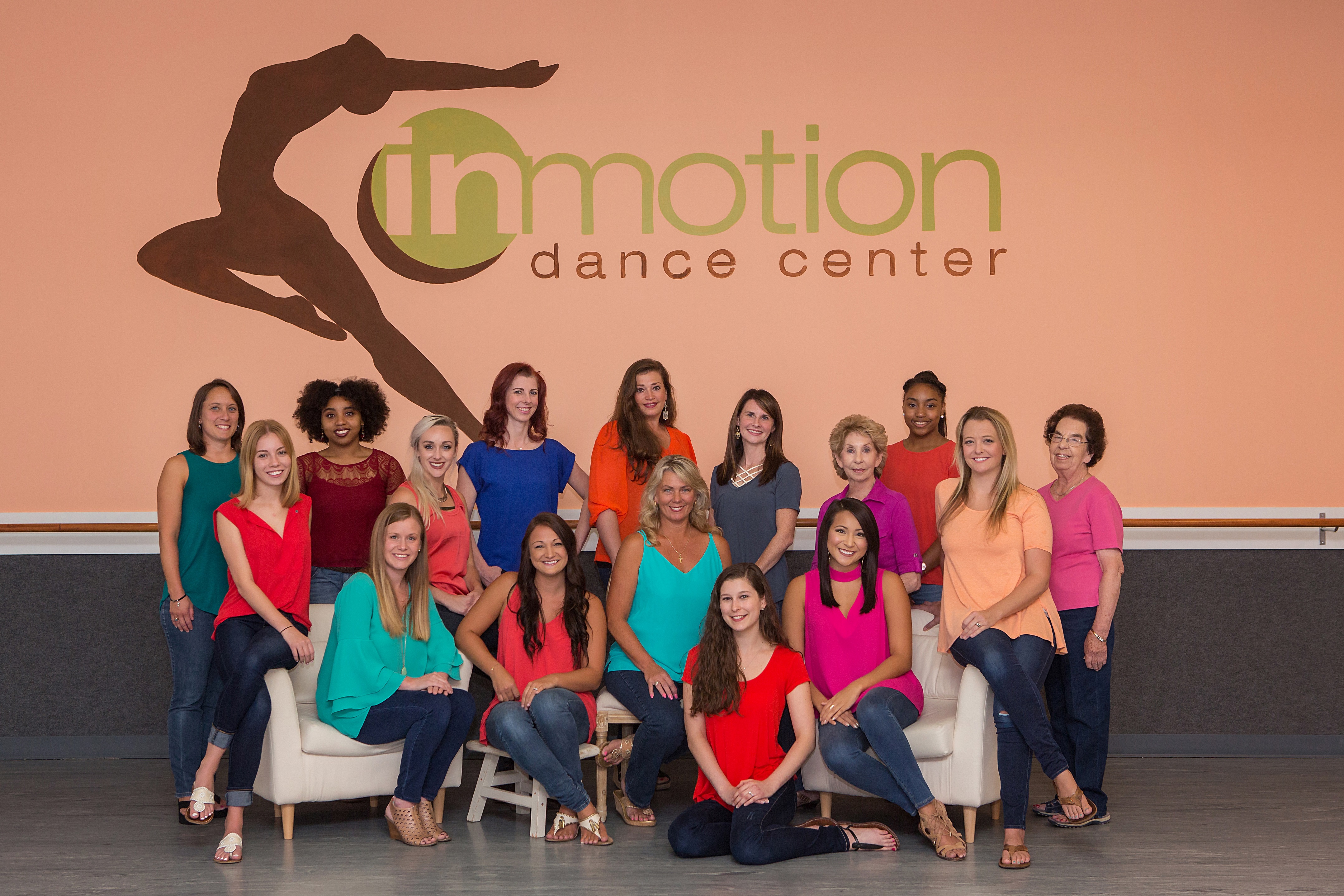 GUEST CHOREOGRAPHERS
Being a member of In Motion Dance Center allows dancers access to world renowned choreographers who are regular guest artists at In Motion.
Dance greats who frequently enhance the already outstanding faculty of In Motion Dance are:
DEJAN TUBIC, faculty member at International Dance Academy (IDA) in Hollywood, CA and travels the US with Dance Makers Dance Convention.
JAY FAGAN, from Chicago and is amongst the most sought after Tap Masters in the industry today, has worked with Dance Educators of America, Dance Masters of America, Chicago National Association of Dance Master and many more
FRANK KOSIK, original cast member of Broadway musicals which include 42nd Street, Cats, A Chorus Line – just to name a few
THOM LAKE, principal dancer and choreographer with Orlando Ballet
MATT LOHER, original cast member of Broadway musicals which include 42nd Street, Cats , A Chorus Line and most recently Book of Mormon
HEATHER PARCELLS, Broadway credits include Hairspray, Thoroughly Modern Mille, A Chorus Line
DUSTIN PHILLIPS, one of the most sought after hip hip choreographers on the dance scene today – working with such greats as Paula Abdul and Janet Jackson
TODD SHANKS, former faculty member of Steps on Broadway, National Dance Competition Judge, and freelance Choreographer, current Dean of Dance at Dean College in Boston
SHER SHERATON, Disney Tokyo, Dance Educators of America, tap choreographer
ZACH VENEGAS, one of few selected to be an Elite Protege with The Pulse On Tour, has danced for renowned artist Justin Bieber, performing with him at the 2012 Billboard Music Awards
BROOKE ZELUS, has worked with tap heavy weights such as Jason Samuel Smith, Chloe Arnold and Fayard Nicholas, assistant choreographer for Ringling Brothers, Barnum & Bailey Circus.
SETH ZIBALESE, has worked as a dancer with some of LA's top choreographers such as Brian Friedman, was a member of the athletic Diavolo Dance Theatre, and also just became a member of Solevita Dance Company
KEITH CLIFTON
BOBBY CLARK
LISETTE BUSTAMANTE
TOMMY ALEXANDER
KAMERON BINK
FRANK MUSSO
TONY VITALE
TED LEVY
MARI MEADE
ASHLEY LINDSEY
BAILEY REECE
ADJUNCT FACULTY
In Motion Dance Center is pleased to announce the addition of an adjunct faculty with many outstanding instructors who teach on an "artist in residency" basis. These teachers include:
Paige Amicon
Jessie Cobb
J'Rai Hammonds
Morgan Huntley
Katelyn Mottesheard
Elly Sarfert
Tara Schiphof
Kylene Valores
STUDIO STAFF
Director: Michelle Nicholson
Assistant Director: Kimberly Benfield
Studio Manager: Lou Jaynes
Studio Administrator: Joyce Lane
Front Desk Receptionist: Tori Nicholson
Kids In Motion Program: Michelle Nicholson