We are so thankful to be back to in-person classes for the 2021-22 dance season! First class of this season will be September 10. This class is held every 2nd and 4th Friday from 6:30-7:15pm and it's FREE! If you know of children who may be interested in this program, please pass the word. Contact npriceimdc@gmail.com to register!
Leaps Without Bounds was featured by FOX 8 WGHP!
CLICK HERE to read the article and watch the video segment of this amazing program!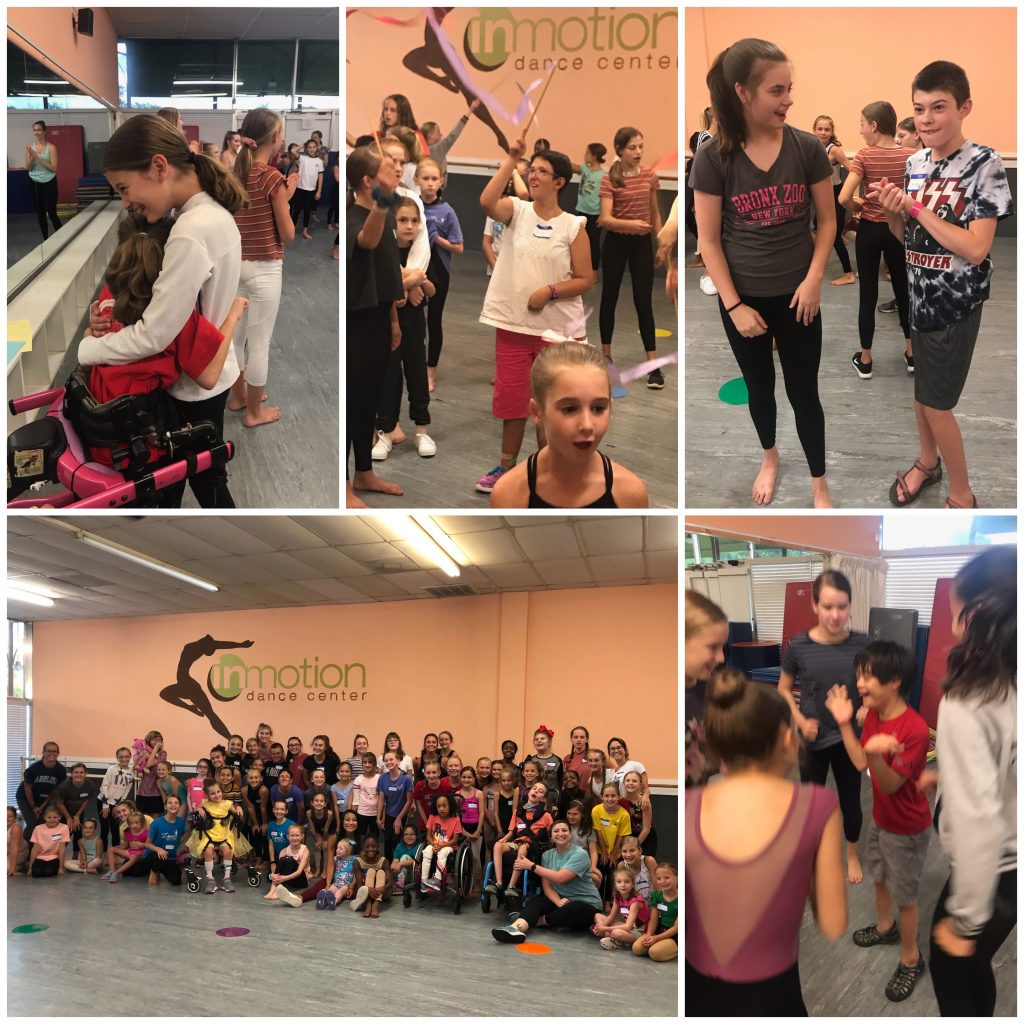 Below is a link to the Leaps Without Bounds registration form. Please complete the form and email it to npriceimdc@gmail.com.
TESTIMONIALS
"We are so grateful for this new dance program in our community. Our daughter is having a great time. Not only can she participate in a program that she loves but she also has the chance to interact with her peers…" – The Cote Family
"….My daughter is a visual learner and the Leaps Without Bounds program uses visual aides so that my daughter can see the movements in order to mimic them…providing full inclusion means so much to me and you can see it means a lot to the children through each and every smile and laugh…" – April Hester Davis
"Inclusion done right! Leaps Without Bounds has brought leaps of joy, confidence and excitement to my sisters life. With the positive, uplifting atmosphere, fun music and dance moves, our entire family looks forward to attending all month long…this is a program where everyone can  participate and feel included…" – Katlynn Bentley
"My daughter has the best time! She has Autism and is non-verbal but her dance buddies talk to her and make her feel so special. They communicate through dance and she feels comfortable … and so did I! am so happy she gets to experience this program. It is so nice to see her interact with the girls and dance her heart out!" – Amy Boefenkamp
"Before I started this program, I never would have imagined how much these kids have taught me in so many aspects of life. They have shown me what true joy and happiness looks like. Getting to see their faces light up with every movement and getting to bond with them over something we all love to do is truly something unforgettable. I have been able to see them grow each time, becoming more confident, open and passionate. I am beyond thankful for this program and the impact it has on all who participate!" – Olivia Beth Vaughan (15 yrs. old)
"My goal with this program is to let my buddy know that they can do anything they set their mind to. My main role is being a boogie buddy for my new friend Rachel every month. I love her. This program is so important so others do not feel left out just because they are different. Leaps Without Bounds makes me feel so happy because I get to help others!" – Rosie Hodges (8 yrs. old)
"I am extremely proud to be a part of this program. It creates so many opportunities for children with disabilities. It allows them to have fun and express themselves through movement, which is why it is so special. It makes me feel connected to my community and I love being a part of it!" – Anna Zwigard (15 yrs. old)
"…this program is needed because children with special needs don't always have access to dance classes. It has taught me to never put limits on people different than me. Being a part of it makes me feel happy and honored to help other children." –Gigi Rice (12 yrs. old)